Welcome to the Office of the Dean in the College of Education at Michigan State University.
About Dean Floden
University Distinguished Professor Robert Floden became dean of the MSU College of Education on January 1, 2016, leading a vibrant community of scholars, students and staff members who are prepared to meet the toughest challenges in education and kinesiology. Learn more.
Dean Floden is part of the Council of Deans at Michigan State University. This group of academic leaders share their insights, community events and more at deans.msu.edu.
Message from the Dean
(May 17, 2019)
Dear College of Education Community,
Last year, some members of the College of Education community marched to the Hannah Administration Building to express their collective hope for institutional change in the wake of Larry Nassar's terrible record of sexual abuse. Many of them also left their individual thoughts and protests adhered to the building in the form of teal cards.
But the moment didn't end there. Some of our faculty, students and staff created a living exhibit inside Erickson Hall and IM Sports Circle. "I March, I Stand," as they called it, provided a space where individuals could express what they stand for, such as supporting survivors of sexual assault, improving the climate on campus and advocating for other causes of justice. Elements of the exhibit are now among other items, including the teal ribbons that had been tied around trees across campus, being memorialized at the MSU Museum.
Outpourings of expression like this have shown us that, while much has been done to put resources and policies in place that can protect and support survivors of sexual violence, our university community must never forget what happened. And we still have much work to do. Moreover, that work goes beyond addressing the prevention of and response to sexual misconduct and relationship violence, to also focus on issues of diversity, equity and inclusion.
More than a year ago, the deans across campus also came together in ways we hadn't before. Through our discussions and revelations about needed changes, we agreed on the core values we stand for:
To foster and protect a culture that is transparent, open, trusting and safe
To continuously cultivate caring and accountable leadership
To empower everyone to be engaged in a community that is inclusive and equitable
We shared these values with the MSU Board of Trustees when the university first began a search to replace its president, and we stood together again in January 2019 when we asked that action be taken in response to Interim President John Engler's hurtful pattern of comments toward the women and girls we are striving to support. I have always been impressed by Satish Udpa, who was unanimously appointed to serve as acting president while the search continues for a permanent president.
So what do you stand for?
In a message following one of the mass shootings in our nation earlier this school year, I urged everyone to think about what they can do, especially as educators, to strive for equitable norms and discourse and behavior that have been eroded in recent decades. How can you help our students, who are preparing to teach and care for others? How can you ensure that our students know what resources, such as counseling services, are available to help them? In the spirit of community, how can we explore these questions together?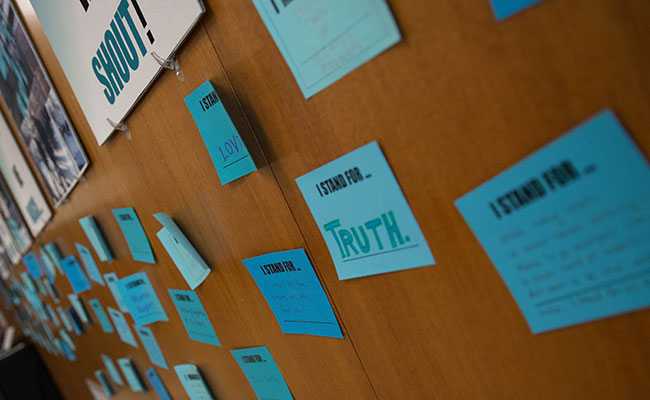 Recently, I attended a reflection space organized for faculty, staff and students by college leaders Lynn Paine and Dorinda Carter Andrews. My own thoughts were about how troubling I find the increasing partisanship in our country, and elsewhere around the world. I wish that schools did more to help students learn to engage with others on contentious and difficult issues. I also wish educators would do more to help students understand the history of struggles with injustice, here and abroad, learning from past events as they take actions to make the world a better place.
Thankfully, there are powerful examples of research, partnerships and programs focused on expanding discourse that can lead to change. And many of them are featured in the latest edition of the New Educator magazine. The MSU Dialogues program, led by Donna Rich Kaplowitz, is teaching MSU students—including future teachers—how to facilitate open conversations with others despite difference. A team of faculty uncovered some interesting insights (and tips for teachers) related to civil discourse happening in high school classrooms. In addition, Professor Beth Herbel-Eisenmann's work shows us how teachers can use discourse moves to not only improve learning but to help all students participate more fully in math class. I hope you enjoy reading about the aspirations and accomplishments of our college.
As always, I welcome your comments and concerns.
Robert Floden, Dean
Resources
Michigan State University resources
Local and national resources